The Top 7 Power BI Alternatives For Data Visualization 2023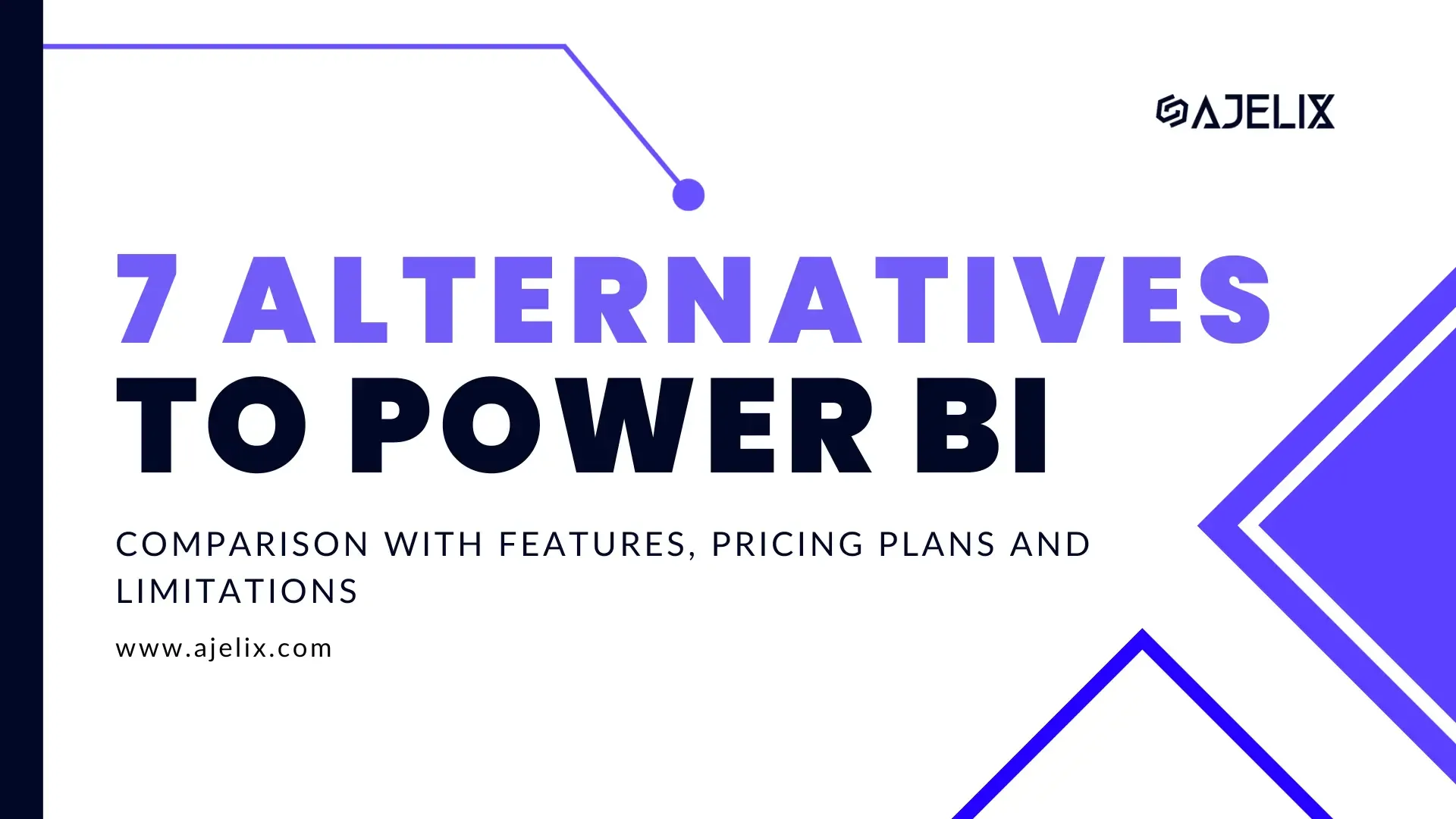 Microsoft Power BI is a powerful platform that helps companies manage data and create efficient reporting system ensuring data-driven culture. However, it's not a "one solution fits all". Power BI is a complex platform that requires advanced setup, DAX function knowledge as well as some programming. That is a deal breaker for most companies because the setup and maintenance requires advanced knowledge that can get pricy. It can get even more overwhelming when every department needs customized reports every month and data analysts to-do's transforms to an endless list.
Before you jump in...
Looking to create reporting system fast & painlessly? Check our latest Ajelix BI platform for easy data analytics to help you make data driven decisions.
Power BI was launched on 2015 as of now the market is flooded with BI and data visualization platforms that outweighs the disadvantages of Power BI. We will take a look at the top 7 best alternatives to ease the data visualization struggles and guide you through the process of choosing the right platform for your business needs.
7 Best Power BI Alternatives for 2023
Here's our list of top Power BI alternatives for data visualization of the year 2023:
Quick Glance At Microsoft Power BI
Power BI is one of the leading data visualization and analytics tools that help in creating a data-driven culture for organizations. According to Trust Radius survey, Microsoft Power BI is the leading BI software in 2021, commanding 36% of the market share.
Power BI features
For such an advanced platform there are many features that we will not mention during this article. However, we will highlight the best feature that makes Power BI one of the most BI platforms out there.
A variety of data connections
DAX formulas
Data transformations through queries (Power Query editor)
Integration into Microsoft's ecosystem
Scheduled Data Refresh
Creating custom visualizations (for developers)
Power BI is a powerful tool for experts, developers and experienced data analysts. But it's too complex for a non-experienced users. It can also get pricy, in the chapter we will summarize cons and limitations for this platform.
Power BI cons & limitations
Here's our summary of cons that MS BI platform have:
Complex setup and advanced knowledge in DAX function writing needed.
Need advanced data analysts who will set up the report for your business.
Hard to create a responsivity for mobile application. You have to create a separate report for mobile apps.
Doesn't offer web interface for report building.
Steep learning curve. There's much functionality that is not used by the most of the users, that it can get overwhelming to create a report.
You can't protect the report with the password. Once you publish the report online it can be accessed by anyone.
Hard to make changes. Every time you need to make changes you have to contact data analysts.
You can't open the report in new computer easily. Every time you want to access the file you need to install the file on the new computer.
Several user editing is not supported. Several editors can't edit the report because the report is stored locally.
You can't solve problems immediately. Once you have an issue it can take weeks for you to solve it with several external consultants.
No cross platform editing. You can't edit the reports from mobile or tablet.
Dependency on Microsoft ecosystem. While this is an advantage for users already using Microsoft products, it might be a limitation for organizations using other platforms.
You can't add custom html and video's easily. It's a complex process for such a simple feature.
Real time data refresh is not instant. If you change the report it can take some time for the changes to appear in the system.
You can't simply unpublish the report. If you want to remove the report you need to delete the file in order to delete it.
The cons for this platform can be very subjective as each organization have different needs and possibilities. Next chapter will summarize available pricing plans.
Power BI pricing
Power BI offers mainly three plans with fixed price, however, by you can get customized offer contacting sales team. There are several bigger packages that we will review later in this article.
Free: this plan is intended for individuals who want to create reports for personal use. You won't be able to share the reports or collaborate with others.
Power BI Pro: This plan is for individual users who want to collaborate reports with other users. You'll also have advanced analytics features that are not available in the free plan. It will cost you 10$ per user/month.
Power BI Premium per user: this plan includes advanced features as AI analytics, insights, faster refresh rate and 23 other features. This plan costs 20$ per user/month.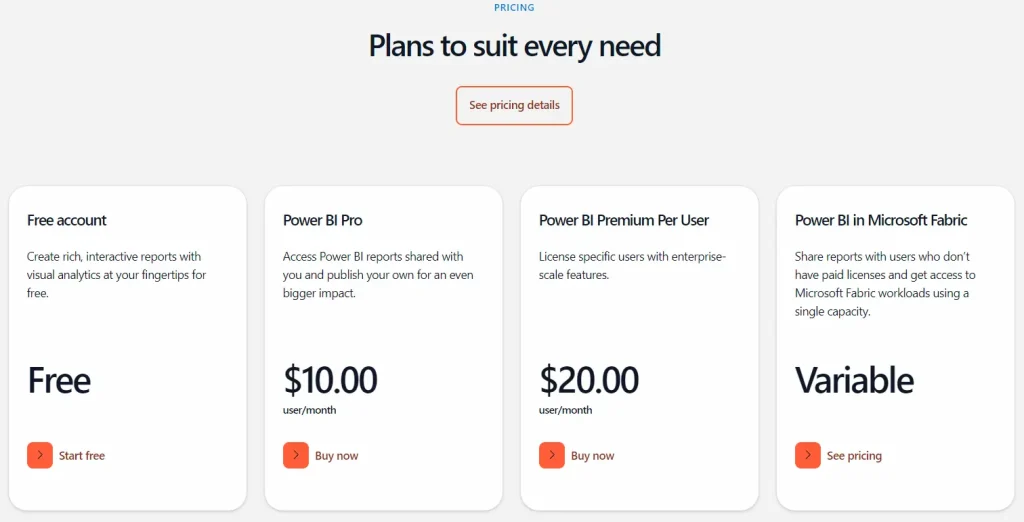 4. Power BI in Microsoft Fabric: there are several plans available that's measured per SKUs capacity. The more you need it the more you pay. This plan includes storing and managing all your companies data in one place with advanced data analytics. The main goal of this plan is to avoid out-of-date reports and to help manage the big amounts of data and turn them into insights.
As you can see the MS Fabric plans starts at $4,995 and it goes up. Organizations should keep in mind that by choosing these plans you'll have to through massive migration and implementation phases. However, it could be very beneficial in the long term for companies that deal with big amounts of data.
Which users should use this platform?
As you can see the possibilities that this platform offers are almost endless, but that doesn't mean everyone can benefit from it. Here's our list who should be using this platform:
Enterprise companies who deal with big amounts of data.
Companies with many data sources and who need help with data integration in one place.
Advanced professionals – data analysts who have knowledge with DAX formulas.
Workspaces who already use MS environment.
Top 7 Power BI Competitors & Alternatives
Based on the Accenture report in 2020, 74% of employees report feeling overwhelmed or unhappy when working with data. Power BI is one of the biggest players in the market so let's take a look how we can turn these statistics into something more positive by looking into best alternatives.
1. Ajelix BI
Ajelix BI is not a usual business intelligence tool that you will see on the market. With easy user experience this tool was built to help anyone create reports fast & painlessly. You can build reports with no-code editor that let's you get the reports in a few minutes. One of the biggest advantages that this platform offers is the ease of use as there's no hard setups and no trainings needed.
Ajelix features
Easy to use no-code editor that let's you build the reports fast and intuitively. Editor let's you customize the appearance of your chart as well as easily connect data with visuals.
No trainings or hard setups. Platform is created so you can register and instantly start building reports in freemium or business plan.
Easy sharing settings, so you can share the reports using links and passwords.
Collaboration is not a problem using this platform, as you can simply add editors to your report.
Created reports are interactive and are applied with filters so you can more easily make data decisions.
You can add comments to your charts for other users.
Enable AI analytics to help you explain the insights behind the charts.
Data synchronization your reports will update automatically once connected with data.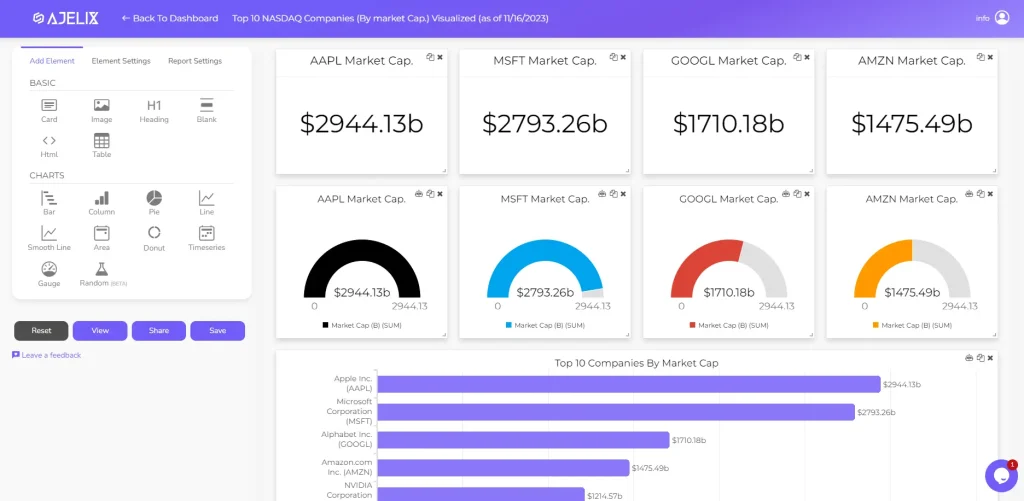 Pricing
Ajelix data visualization platforms pricing is straightforward:
Join freemium and explore how easy it's to create reports. In this plan you'll be able to create reports but you can't save them and share them with others. This plan is used only for testing purposes.
Business plan offers full access to editing, saving and sharing settings. You'll also have access to regular updates and live chat support. As an addition you'll have access to more than 20 AI tools. All included for 19.95$ per user monthly.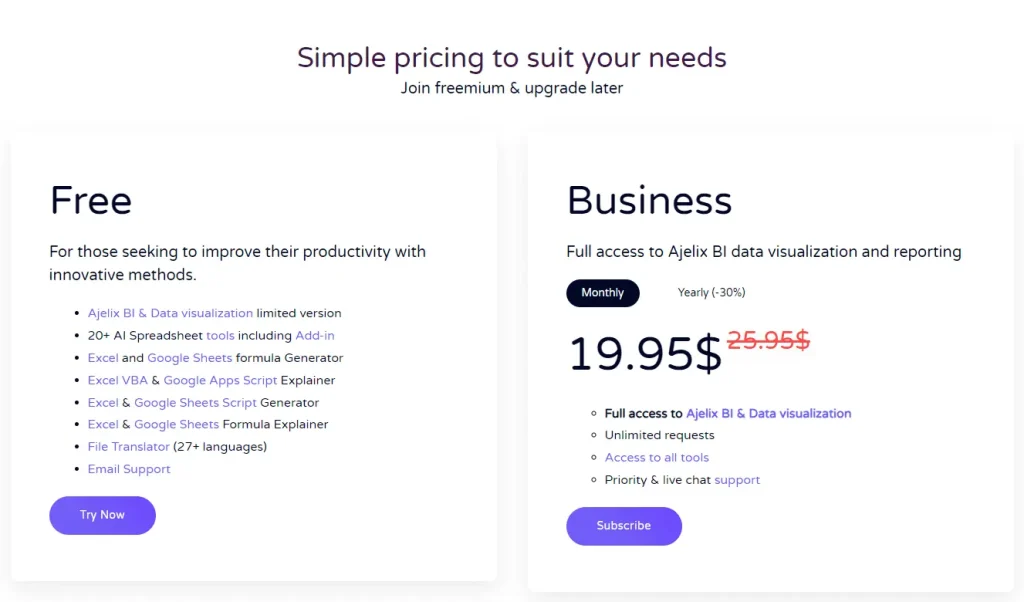 Once you choose Ajelix team you'll support individual developers who strive in creating meaningful tools to help businesses become more effective. With regular updates and instant support you will get more value in the long run.
Which users should use this platform?
Individuals and solo entrepreneurs who need to make data driven decisions fast.
Small to medium businesses.
Non-technical teams.
Excel users who want to create reports more efficiently.
2. Dundas BI
Dundas BI is a business intelligence (BI) and data visualization platform that allows organizations to create interactive and customizable dashboards, reports, and analytics.
Dundas Features
Data Visualization: Dundas BI provides a variety of data visualization options, including charts, graphs, and maps.
Interactive Dashboards: Users can create interactive dashboards that allow for drill-downs, filtering, and exploration of data.
Ad Hoc Reporting: The platform supports ad hoc reporting, allowing users to create reports without relying on pre-built templates.
Pricing
It's hard to find anything about the pricing unless you contact support or register on their platform. After some searching and clicking on several links we were finally able to get the pricing. And then there's another trick to get the pricing you have to provide business details and email. Oh and you can't enter your gmail email.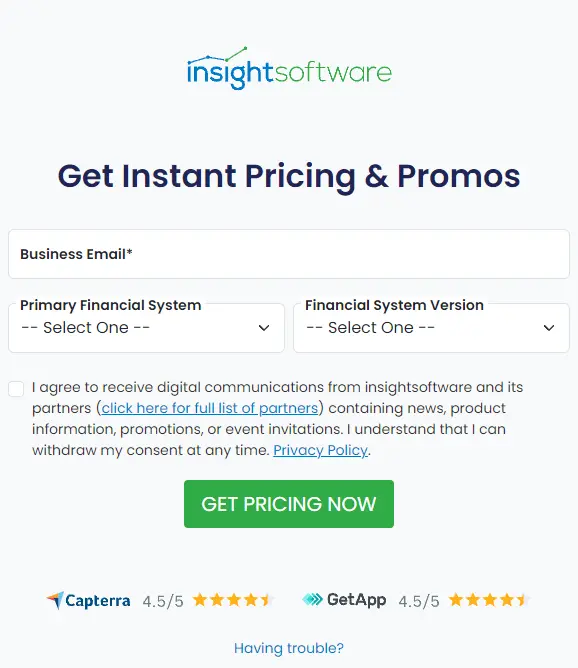 After some searching we didn't find the pricing unless we contacted the support. We also did some searching online but even that didn't answer our question.
Limitations & cons
Steep learning curve – there's a documentation available, however, it's insufficient for the complexity of the system.
Difficult entry – you need to talk to the sales even if you want to test it or get the pricing.
Speed issues mentioned by the customers, as the system can stop functioning if there's a big amount of data used.
Related Article: How AI Data analytics and visualization work?
3. Tableau
Tableau's balance of usability, scalability makes it a popular choice for organizations seeking powerful data visualization and analysis tools. It's great for enterprise companies looking for the next level data insights as tableau is one of the most advanced systems out there.
Tableau features
Advanced AI & ML integration.
You can perform complex analytics with large amounts of data without any issues.
Platform is built to carry out difficult tasks so you won't encounter speed issues.
Have a mobile friendly version.
Pricing
Tableau offers three pricing plans:
Tableau Viewer which will cost you 15$ per user a month. This plan includes only the privilege to view the reports your analysts have created.
Explorer will give you the possibility to edit existing reports and collaborate with other users on platform.
Creator at least one of users from your company should have this license, as it let's you create the reports and share them. It will cost you 75$ a month per user.
It's important to mention that all of the plans are billed annually. So if you decide to use this platform you have to pay in advance. Platform doesn't have a freemium, however, you can get a free trial to understand if this solution is for you.
Tableau limitations & cons
Tableau doesn't offer automatic report refreshing.
The pricing plan is not flexible and is the most pricy solution out there with annual subscriptions.
Requires SQL knowledge so it can get pricy to get an expert who can set up & maintain the reports.
Doesn't have a version control.
You need to manually approve any changes so it would appear in the report.
Which users should use this platform?
Advanced data analysts
IT specialists
Enterprises with large amounts of data
Experts who work with complex data analytics
Related Article: Top 9 Data Visualization Trends
4. Looker
Looker offers self-service where you can build your own custom applications, they also offer possibility to chat with your business data. It's also possible to get automatic insights and trends from your data.
Features
Real time insights and reports from your choice of cloud.
Available embedded analytics
Option to connect with other BI platforms
Pricing
Looker's pricing plan is separated in two parts, they have packages and individual licensing for each user. They offer 3 platform editions:
Standard is for small organizations up to 50 users and costs $5000/month. You will have 10 standard users, 2 developer users, up to 1000 query-based API calls and 1000 administrative API calls.
Enterprise edition offers the same amount of licenses. The main difference is the count of API calls: 100 000 query based API calls and 10 000 administrative API calls. To get the quote you have to contact sales and consider annual commitment.
Embed edition, same amount of licenses, 500 000 query based API calls and 100 000 administrative API calls. Pricing can be received by contacting sales.
You also have the option purchase individual licenses:
Developer user is the license who will be able to create the report, it has access to anything that this BI platform offers. The cost is 125$ per user a month.
Standard user will be able to use and analyze the created reports. This user won't have the access to development mode, administration, API and support. It will cost you 60$ per user a month.
Viewer user is pretty straightforward you can only view the reports and interact with them. The license is 30$ per user a month.
Looker limitations & cons
Steep learning curve: you need to learn SQL and advanced analytics to even set up this BI.
Expensive pricing this platform is one of the most expensive one that we have reviewed. It would be great for enterprise but it could be too much for small to medium businesses.
Limited customer support: it's hard to get help and the wait times can be long.
Speed issues some developers have experienced lagging issues when working with big amounts of data.
Which users should use this platform?
Enterprise level companies
Data analysts who are experienced with SQL and Google solutions
Companies with big data
Related Article: Ajelix Insights: Why Business Intelligence Has Become Overwhelming?
5. Zoho
Zoho analytics let's businesses help connect, prepare, analyze and collaborate data in one place. Their BI platform let's you create reports without any help from IT.
Features
Option to connect data from different data sources and popular business applications.
Data preparation and cleansing before report creation.
AI data analytics
Collaborate and share report with others.
Embed analytics in your applications with no code solutions.
Pricing
Zoho pricing plan is separated into 2 sections: Cloud & On premise. On premise plan is more expensive and is separated into 4 plans:
Basic for 30€ per month and it includes 2 users and 0.5 million rows.
Standard for 60€ per month with 5 users and 1 million rows.
Premium for 145€ per month with 15 users and 5 million rows.
Enterprise for 575€ per month with 50 users and 50 million rows.
However, if you choose on premise solution you will pay less. Here's a brekdown:
You can use Zoho in freemium plan for personal use
Professional plan costs 30€ per month per user if you add 5 users.
Zoho limitations & cons
Some customers complain that there should be more videos and resources for better onboarding.
It can get costly, however, it's still quite accessible if we compare to the previous BI tools.
There's still steep learning curve.
User-experience is not institutive enough and for some reports there may be a need for IT specialist.
Embedded charts can take some time to load.
There's still a need to learn SQL to take full advantage of this platform.
Which users should use this platform?
Non technical teams.
Users who are not fluent in data analytics.
Small to medium businesses.
Analysts who work with SQL.
Related Article: Creating effective data visualization dashboards that tell a story
6. Qlik Sense
The selling point that Qlik Sense offers is next level AI insights and actions from your data. They offer data visualization, AI model, active analytics, hybrid cloud platform.
Features
Self-service visualizations
Interactive dashboards
Advanced and predictive analytics
Reporting
Mobility
Custom & embed functions
AI powered data insights and analytics.
Pricing
Qlik Sense offer 3 pricing plans:
Standard plan which costs 20$ per user a month (billed annually) but you have to purchase full users who can actually create these reports. That will cost you extra.
Premium plan offers more data capacity and different data sources as well as unlimited users. Plan costs $2,700/mo.
Enterprise is custom plan where you can get an offer tailored to your needs with better performance and scalability.
You can also get a 30-day free trial to try out the tool.
Qlik Sense limitations & cons
Data extraction is limited
Limited visualizations offers basic charts
Complicated pricing
You can face speed issues when working with big amounts of data.
Which users should use this platform?
Data analytics experts
Medium businesses
Related Article: Data visualization principle's and best practices
7. Klipfolio
You can create visualizations from spreadsheets to SQL queries with more than 100 data sources. Klipfolio offers great visualizations so you're dashboard would look professional.
Features
Create your own individual metrics.
Ability to connect data from more than 100 data sources.
Data preparation.
Data visualization.
AI data analytics.
Collaboration and sharing.
Pricing
Klipfolio offers 4 pricing plans:
Free version includes limited count of users, dashboards, data sources but it can be enough for small businesses or if you want to try it out. You can get 30 day trial to test out advanced analytics.
Go plan will cost you 125$ monthly and it offers more functionality as well as advanced analytics and dashboard customization.
Pro version costs 300$ monthly and you'll be able to add more users, dashboards, datasets, etc.
Business plan costs 800$ a month. In this plan you can flexibly manage user count, datasets, etc. As addition you can have Custom service agreement and vendor assessment.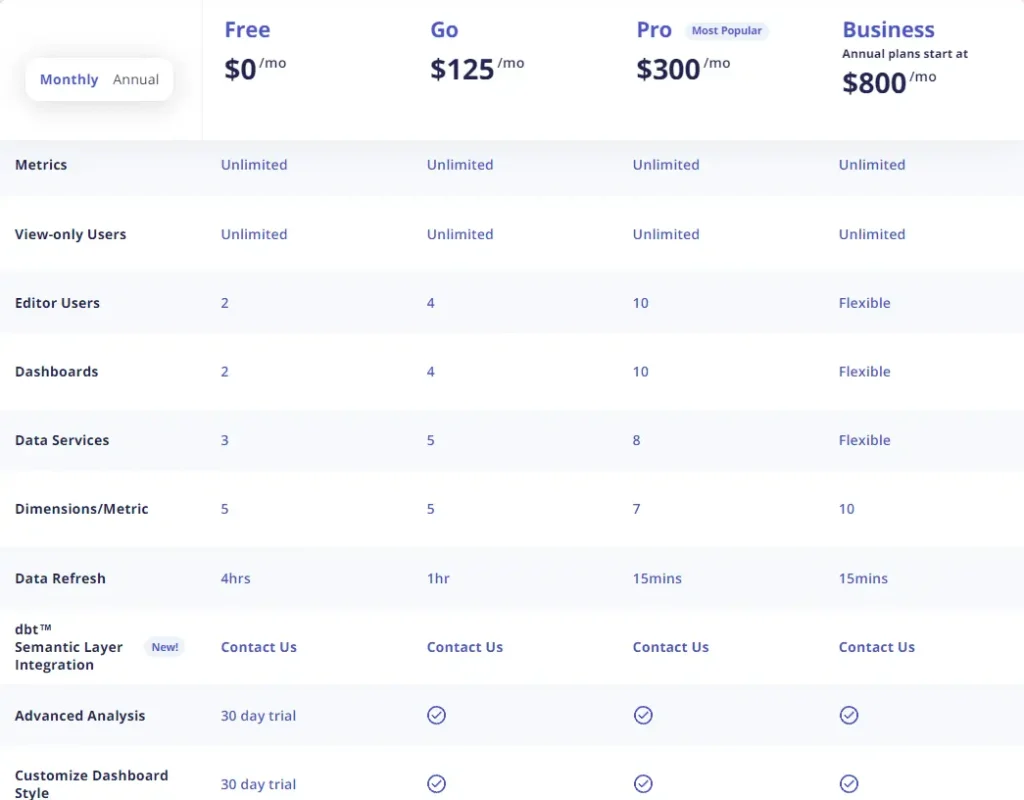 You can also customize the plan by adding individual licenses:
Editor – 19$ per user a month
Adding more metrics – 7$ per metric a month
Additional dashboard – 19$ per dashboard a month
And the list continues with more different customization features. Keep in mind that these are annual subscription prices if you want to get monthly prices that will cost more.
Klipfolio limitations & cons
Similar to other BI platforms you might experience lags and speed issues.
Lack user interactivity, such as, drag and drop functionality.
Backend dashboard creation is a complex process.
You might need an IT professional who will set up & renew API connections.
Which users should use this platform?
Small to medium companies.
Non-technical users.
Great for basic to intermediate data analytics.
Summary
Here's a quick summary with Power BI alternatives and pricing comparisons.
| Feature | Power BI | Ajelix BI | Dundas BI | Tableau | Looker | Zoho | Qlik Sense | Klipfolio |
| --- | --- | --- | --- | --- | --- | --- | --- | --- |
| Coding needed | | | | | | | | |
| Pricing | 10$-8.5K$ | 19.95$ | Not available | 15$-75$ | 30$-5000$ | 30$-575$ | 20$-2700$ | 125$-800$ |
| Complex Pricing | | | | | | | | |
| Freemium | | | | | | | | |
Ready to start creating reports with Ajelix BI?
Free
For those seeking to improve their productivity with innovative methods.
---
More than 20 AI Excel tools
Limited access to Ajelix BI
Excel formula generator
Script Debugger
Spreadsheet Assistant
10 free requests per month
Excel file translator
…
Standard
For teams and individuals to efficiently use spreadsheets on a daily basis.
---
Unlimited access to 20+ AI spreadsheet tools
Limited access to Ajelix BI
…
Business
Full access to Ajelix BI data visualization and reporting
---
Everything in the Standard plan
Full access to data visualization tool
…