How To Print Barcode Labels From Excel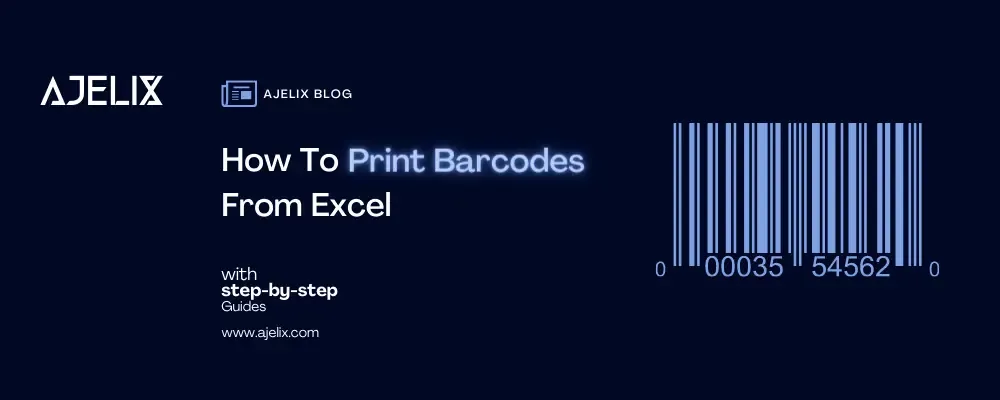 Barcode labels have become an essential part of inventory management, allowing businesses to keep track of their products efficiently. Excel, a commonly used spreadsheet program, offers the ability to create and print barcode labels. In this article, we'll explore barcodes and their use in inventory management. As well as how to create and troubleshoot labels in Excel.
What Are Barcode Labels?
Barcode labels are small, rectangular images that contain a unique identification code for each product. They help businesses keep track of their inventory real time by allowing quick and easy identification of products. As well as provide efficient supply chain functionality improving inventory accuracy.
Labels can be accessed with a barcode scanner to manage your inventory. Barcodes also reduce the possibility of human error in inventory inaccuracies and inventory management tools.
Labels come in various types, including UPC, Code 39, Code 128, and EAN. Each type of barcode is used in different industries and applications. For example, the Code 128 barcode is commonly used in shipping and logistics, while the EAN barcode is used in retail.
How To Prepare Data for Barcode Labels?
Before creating labels in Excel, it is essential to prepare the data correctly. The data must be sorted and organized in a way that makes it easy to identify the variables for the label. This step involves checking for missing data and errors in the data to ensure accurate identification of products.
How To Create A Barcode Label in Excel?
Excel provides various options for creating barcodes. Including using barcode fonts, choosing the right symbology, and formatting the label for better visualization.
A step-by-step guide can be followed for label creation in Excel. The barcode can be customized by adding filters, slicers, or multiple barcodes. Excel also provides macros for automated barcode creation.
Troubleshoot Barcode Label Printing
Printing barcode labels in Excel can sometimes be challenging, as there are many factors that can affect the quality of the label. Common issues include incorrect data format, wrong barcode symbology, incorrect label size, and printer issues. To troubleshoot barcode label problems, you can check the data format, choose the right symbology, adjust the label size, and check the printer settings. You can also refer to the printer manual or contact the manufacturer for assistance.
Conclusion
In conclusion, barcode labels are unique identifiers and an integral part of inventory management software. Excel offers various options for creating and printing barcode labels. Making inventory management more efficient and reducing the possibility of human error.
Barcodes can help keep track of inventory levels and inventory records, it's one of the most popular inventory management systems. By following the steps outlined in this article, users can create accurate and effective barcode labels in Excel. That will ensure efficient inventory management.
Learn more about Excel and Google Sheets hacks in other articles. Stay connected with us on social media and receive more daily tips and updates.
Frequently Asked Questions
What data format is required to create barcode labels in Excel?
To create a barcode in Excel, the data must be in a format that includes the barcode data. As well as any additional information needed for the label, such as product names or descriptions. This data should be sorted and organized in a way that makes it easy to identify the variables for the label.
What is a barcode label and why is it important in inventory management?
A barcode label is a type of label that contains a barcode. Which can be scanned to quickly retrieve information about a product, inventory item, or another item. Barcode labels are important in inventory management because they allow quick and accurate tracking of inventory.
How do I format my barcode labels in Excel for better visualization?
Format barcode labels by choosing a font that is specifically designed for barcodes, such as the Code 128 font. They can also adjust the size and placement of the barcode on the label. As well as choose a color scheme that is easy to read and visually appealing. Additionally, you can use conditional formatting to highlight certain values in the barcode label.
What is barcode symbology and how do I choose the right one for my barcode labels in Excel?
Barcode symbology refers to the specific method used to represent data in a barcode. There are many types of barcode symbologies, such as Code 39, Code 128, and UPC. Each symbology has its own set of rules for encoding data. For example, the number of characters that can be represented and the type of characters that can be used.
To choose the right symbology consider the type of data you are encoding, the size and placement of the barcode. Keep in mind any industry or regulatory standards that apply. If you're creating product labels for retail items, you may need to use a specific symbology such as UPC or EAN. It is important to research and select the appropriate symbology for your specific needs to ensure accurate and efficient barcode scanning.

Latest Articles